Fundamental to all Mooney-Line Viscometers is the rotor and die assembly. A sample of test material is placed above and below the rotor and the platens then closed under pressure. The temperature of the dies and the sample contained within are accurately maintained throughout the test by means of microprocessor based PID control systems.
The rotor rotates at a constant speed of two revolutions per minute and by means of a precise transducer system located below the die assembly, the torque exerted on the rotor head is measured and recorded within the system data files.
The Mooney-Line Viscometer is supplied with everything you need to perform quick and efficient elastomeric compound testing, including:
• Fully Automatic Calibration
• Personal Computer And Colour Monitor
• Comprehensive Mooney Software
• Printer And All Peripheral Cables And Connectors
Everything you need to get up and running is supplied ln one complete package. All equipment has been designed to be 'user friendly' with built-in safety features and to perform with the minimum of maintenance.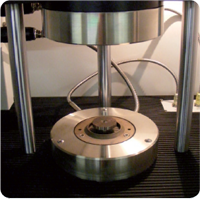 Advanced and Standard Tests
An important feature of the Mooney-Line Viscometer is it's ability to be programmed for measuring the STRESS RELAXATION index of material samples. This feature enables the user to measure the decay of viscosity by firmly locking the Rotor after the programmed test time has elapsed. In addition to this the equipment meets the requirements of ASTM D1646 and can perform industry standard tests, including ML ( 1+ X ) viscosity tests, SCORCH testing and DELTA MOONEY tests on a wide range of compounds prior to manufacturing processes.
Prescott Instruments Mooney-Line Viscometer is operated through an intuitive and easy to use Windows based software system and the package includes:
• DATABASE Storage of compound test specifications.
• ACQUIRE Displaying real time test data.
• REPORT GENERATOR Output of graphs and data on screen or printer.
• PASS / FAIL Test data can be pass / fail based on historical or pre-determined criteria.
• As with all Prescott Instruments products Mooney-Line is fully networkable to our full range of operating platforms, or indeed to other industry standard equipment.

Standards

Conforms to ISO 289

Electrical

Single Phase, 220 / 240v 50Hz, or 110v 60Hz.

Pneumatics

Filtered Air 4.2 Kg/cm² ( 6OPSI ).

Rotor

Large / Small

Rotation

2 revolutions per minute

Temperature Control

Temperature Control Digital PID.

Temperature Range

Room temperature to 200°C.

Output Type Viscosity

Torque in Mooney Units

Temperature

Celsius or Fahrenheit.

Time

Min / Seconds or Minutes / Decimal.

Types of test

Viscosity, M1 (1+x), Scorch, Combined Scorch and Siscosity, Mould Release Test and Stress Relaxation, All tests can be with or without heat

Data Format

All data stored in Access database with full export functionality.

PC and Software Specification

Pentium processor, Windows ® compatible, operating in Windows 98 V2 ¢â, NT ¢â 2000 ¢â or XP ¢â, fully networkable

Optional Extras Available

- Small and Large rotor

- Mooney Sample Cutter
---