Multi-Place Cold Finger
Cold Finger 장비의 원리는 반전된 파이프라인에 있다. 파이프라인의 내부 온도가 WAT (Wax Appearance Temperature) 이하로 떨어지면 파이프라인 주변에서 회전하고 있던 오일이 파이프라인의 벽 표면에서 침전하기 시작한다. 침전물이 Cold Finger로부터 분리되어 무게가 재어지면 화학 성분이 첨가되거나 그렇지 않은 Paraffin의 상대적인 무게를 알 수 있고 이를 통해 오일에 첨가된 화학성분의 효과를 관찰할 수 있다.
샘플은 최대 100 ml 또는 최대 250 ml 까지 측정될 수 있으며 Cold Finger는 재사용이 가능하고, 길이나 두께도 조정될 수 있다.
In analysing waxy crude oil and also in testing, developing and selecting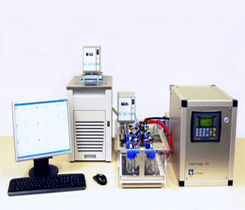 wax inhibiting chemicals, it is of importance to perform tests in a fast and efficient way and under reproducible conditions.
The principle of the Cold Finger instrument is an inverted pipeline. The cooled metal finger simulates the pipeline's inner wall. The heated and stirred oil flows around it. When the finger's temperature falls below the WAT, wax starts to deposit on its surface.
Combining multiple cold finger devices in one heating bath gives the ability to perform surveys on wax inhibitors, e.g. simultaneous testing of different chemicals on a sample or one chemical with different concentrations.