효율적이고 견고한, C 시리즈 플랫폼은 high-throughput 생산을 위해 특별히 설계된 턴키 레이저 미세 가공 툴입니다.
Oxford Lasers사는 40년 이상 레이저와 레이저 기술로 일해온 경험으로써, 고객이 직접 사용할 수 있는 강력한 생산 툴을 고안했으며, 이를 바탕으로 C 시리즈가 탄생했습니다.
이 플랫폼은 매우 엄격한 연속적인 생산 환경에서 쓰이도록 구축된 생산 툴입니다. 특정한 생산 요구 사항에 최적화된 다양한 레이저 및 모션 컨트롤러와 함께 사용할 수 있습니다. C 시리즈는 일반적으로 기업에서 생산에 사용되지만, 높은 수준의 정밀도를 필요로 하는 파일럿 생산에 동일하게 적용됩니다.
Key Benefits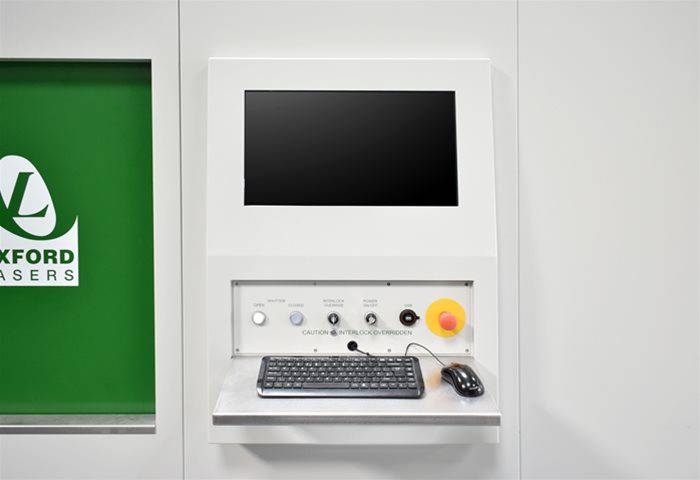 Robust: Designed for 24/7 operation
Functional: Cimita control software simplifies the process from CAD direct to production
Easy to use: Pre-programmed processes to reduce operator involvement
Choice: of nano, pico or femtosecond pulsed laser with motion control options
Stability: Granite frame with vibration isolation provides stable drilling process
C Series Specification
Laser Type
Nanosecond, Picosecond or Femtosecond
Wavelength Options
Dimensions
2805W x 1555D x 2040H (mm)
Product Weight Range
2700kg (dependant on laser type and other options)
Versatility
다양한 플랫폼으로 적외선 (IR), 가시 광선 또는 자외선 (UV)과 같은 서로 다른 파장을 접목할 수 있습니다.
펄스길이가 다른 나노초, 피코 초 및 펨토초의 레이저가 모든 플랫폼에 적용될 수 있습니다.
싱글 플랫폼에 여러 파장(multi-wavelength)을 적용할 수 있습니다. - not available on all platforms
Modularity
다양한 고정밀 모션 컨트롤 시스템을 모든 플랫폼에 적용할 수 있습니다.
모든 범위에서 고급 Galvo Scanner와 통합을 위한 호환성이 있습니다.
다양한 플랫폼에서 사용 가능한 옵션을 선택 추가할 수 있습니다.
Futureproof
Additional options can be substituted or added after installation
Additional control software can be added at a later date
Additional process recipes can be installed to achieve different tasks
GENERAL PRODUCT SPECIFICATIONS
PRODUCT
MULTIPLE
WAVELENGTHS
WAVELENGTH
OPTIONS
DIMENSIONS
W X D (IN MM)
UPGRADES
AVAILABLE
A SERIES
No
355nm/532nm/1064nm
1469 x 1204
Yes
C SERIES
No
355nm/532nm/1064nm
2805 x 1554
Yes
E SERIES
No
355nm/532nm/1064nm
2805 x 1554
Yes
G SERIES
Yes
any two of:
355nm/532nm/1064nm
3102 x 1554
Yes
J SERIES
Yes
355nm/532nm/1064nm
3102 x 1554
Yes
A selection of applications which lend itself to micromachining solutions are shown in the below table.
This application summary is given for general guidance purposes only and as such is not a comprehensive list of all possible applications. Therefore, if you have an interest in a specific application area which is not listed please do not hesitate to reach out to us where our technical team are on hand to discuss your application requirements.
Application Summary
| | | | | |
| --- | --- | --- | --- | --- |
| Drilling | Milling | Cutting | Surface texturing | Thin-film patterning |
| Guide plate production | Microfluidic devices | Medical devices | Friction reduction | Flexible electronics |
| Calibrated holes for leak test | Sample preparation | Sensors | Biomimicry | Display |
| Fuel injectors | Biomedical devices | Wafer resizing | Wetting | OLEDs |
| Nozzles | Micro moulds | Stencils | Decorative | Batteries |