미세재료물성분석기 (TXA™ Micro-Precision Texture Analyzer / Adhesion Testing Equipment)
| | |
| --- | --- |
| 모델명 | TXA™ Micro-Precision |
| 적용하중(gf, Kg) | 0.01gf ~ 600gf |
| 적용하중(mN, N) | 0.1mN ~ 5.88N |
| Basic Load cell(gf, Kg) | 150gf, 300gf, 600gf |
| Basic Load cell(mN, N) | 1.470N, 2.942N, 5.884N |
미세하중의 점착력과 같이 민감하고 재현성이 좋아야 하는 Texture Profile을 측정하고자 하는 경우, 특히 점착제나 약하중 접착제의 초기 접착력등은 제품의 품질과 직접적인 관련이 되므로 매우 약한 하중을 일관성있게 측정하여야 합니다.
따라서 tack test 시 Micro-TXA™ 미세재료물성분석기는 round ball probe를 transducer에 부착하고 이를 stepping motor로 이동시키면서 걸리는 force를 거리변화에 대해서 하중 변화를 매우 정밀하게 측정하도록 제작되었습니다.

점착제 시험 결과는 bonding 시
1) 점착제를 누르는 힘
2) dwelling time(점착제가 substrate와 붙어있는 시간)
3) probe(점착제의 substrate)의 surface energy와 과 debonding에 의해서 영향을 받게 되므로 정밀한 시험이 요하게 되며, 당사의 미세점착력측정기(TXA™ micro-precision)은 초기점착력(initial adhesion) 및 최대하중(tack), 응집력(cohesion), 유지시간(holding time)을 매우 재현성있게 시험하는 모델입니다.
TXA™ 시리즈 전 제품은 TopTac-2000 전용프로그램과 소프트웨어 10년 무상 업그레이드 라이센스가 기본으로 제공됩니다.
Features
시험조건의 변수를 사용자가 원하는 대로 바꿀 수 있게 꾸며진 User Friendly Software.
기기에 사용되는 load cell 및 측정 목적에 따른 다양한 accessory를 쉽게 교체할 수 있도록 하였습니다.
Sample holder 및 jig가 바뀌었을 때 매번 거리 조정을 하는 불편함을 제거하기 위하여, 자동으로 거리를 check 하게 하는 자동거리조정 기능을 가지고 있습니다.
국내 사용자를 위한 사용하기 쉬운 한글 버전 S/W
운영 프로그램은 한글 기반으로 제작되었으며, 하나의 메인 화면에서 모든 측정상황을 실시간으로 display하도록 했습니다. 나아가 네트워크 망을 이용하여 생산 시스템에 적용이 가능하도록 했습니다.
일반적인 측정 mode에서 얻어질 수 있는 결과를 측정이 끝난 직후 평균과 표준편차를 자동으로 계산하여 화면에 display하게 되어 있는 자동 보고서 출력기능을 가지고 있습니다.
시료의 특별한 전처리가 필요 없고 기재(substrate) 종류만 일치하면 동일한 조건에서 연속으로 점.접착 측정이 가능합니다.
상온에서 70℃(기본)까지 sample stage의 온도를 조절 할 수 있는 heating plate를 이용하여 일정 표면온도에서의 물성을 측정하며, cryogenic option과 thermal chamber를 이용하면 저온에서 350도까지도 시험이 가능합니다.
TXA™는 0.0001~5mm/sec의 작은 속도 하에서 Young's Modulus, Break Strength, Break Strain 및 Peel-off 측정과 전단응력(Shear Adhesion)등의 물성 측정이 가능합니다.
TXA™는 저속 하에서 Hot Melt형 점착제 혹은 Acryl계 점착제 등의 점.접착제 및 다양한 시편의 압축탄성 계수를 측정할 수 있습니다.
Micro-TXA™ 미세재료물성분석기는 저속의 볼(ball)을 점.접착제에 일정한 하중으로 가한 후 떼면서 얻어지는 힘을 측정하는 방법을 이용한 Ball Probe Tack 시험방식을 이용함으로써 면접착 시험 시 종종 발생할 수 있는 오차요인을 제거하였습니다.
TXA™ 는 Creep과 Recovery 실험을 가능하게 한다. 일정한힘이 가해진 후 얻어지는 회복거동을 측정합니다.
이러한 거동은 점.접착제의 유지력 또는 응집력(cohesion)에 대한 정보를 제공합니다.
응력과 이완을 조절/측정함으로써 시료의 유변 거동을 확인할 수 있습니다.
변위, 속도, 시간을 임의로 지정하여 응력/이완 시간의 곡선을 얻을 수 있습니다.
⊙ TXA™ Texture Analyzer 제원 (TXA™ series 공통)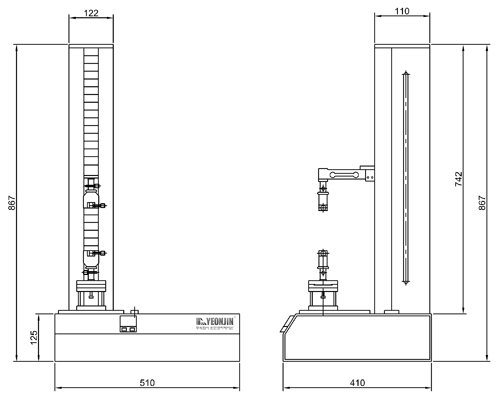 Specification
 

Micro-TXA™ (Micro Textrue Analyzer)

Force Range(gf, kg)

0.01gf ~ 600 gf

Force Range(mN, N)

0.1mN ~ 5.88N

Force Resolution

(depending on load cell)

0.01gf (0.1mN)

Force Accuracy

0.025 %

Speed Range

0.0001 ~ 5 mm/sec (Max.15mm/sec available on request)

Travel Range

Upto 650mm (500mm with tesion sample holder)

Position Range Setting

0~500mm

Range Resolution

0.0001mm

Operation Modes

Tension, Flexure(3-point bending), Peel-off(90º and 180º), Compression, Adhesive, Creep Recovery, Look Tack, Stress Relaxation, Various kinds of jig (grips) can be constructed by user demand.

Data Aquisition Rate

Max. 1000/sec

Atmospheric

Lab. condition. Dust and Splash Rresistant.

Operating Temperature

RT ~ 120℃ (Isothermal)

-20℃~350℃ with optional heating & cooling unit

Weight

17 kg

Dimension

510mm(Width) X 867mm(Height) X 410mm(Depth)

Power Requirements

220~240V(AC) 60Hz +/- 15%
TXA™는 (주)연진코퍼레이션의 등록상표입니다.