rs5000-S2 Polymer Study Station Rheometer
The rs5000-S2 Polymer Study Station is a mid-range drive with the added capability of Modbus communication and the Insight data acquisition system. All data from your test runs are recorded at a rate of 1/sec and stored for later recall using the built in data review package.
When equipped with an in-line, direct measurement torque load cell, the rs5000-S2 becomes a versatile and affordable torque rheometer solution.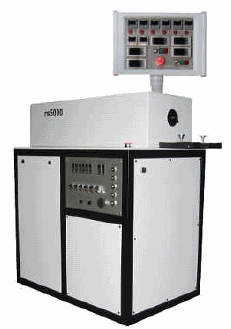 The rs5000-S2 Polymer Sudy Station Rheometer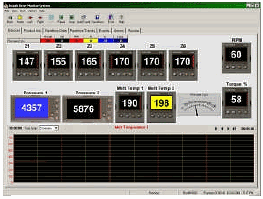 The Insight Data Acqusition System
Providing new solutions for Process Monitoring
In today's highly competitive marketplace it is crucial that you not only deliver quality products, but maintain quality records on the process used to develop & produce these products. You expect no less from your suppliers, and your customers expect no less from you.
Enter, Insight the latest development in Process Monitoring systems from LTD Design Services. Utilizing the modbus communication features of Eurotherm's 3216 controllers and 32h8i readouts, Insight has been optimized for use with the rs5000-S2 Polymer Study Station. Insight provides you with a clear real-time process view of your test run while logging data from all process variables at a rate of once per second.
Torque measurement
The rs5000-S2 system can accommodate either the Drive Torque measuring system provided with rs5000-s1 drives or enhanced with an in-line, direct measurement torque load cell. This added capability provides torque measurement equal to or exceeding that of the highest priced rheometers on the market.
System 2 Insight Features
• 8 hour runtime
• Event markers
• User defined alarm limits for all process parameters
• Color coded indication of all process parameters based on alarm status (Hi-Lo status)
• Digital and graphic display of all process parameters
• Auto alarm logging
• Event marker with user comments
• Time, date, and operator stamps on all alarm and event makers
• Powerful data review/report generator
• Advanced data recovery for power outage situations
• Easy data import to spreadsheets, data base, SQC and SPC packages
Insight Components
THE PROCESS PAGE
The Process Page is your main view of the actual test run. All measured parameters are clearly presented to the operator and each process parameter is color coded based on user defined Hi & Lo alarm limits. Any process variable can be displayed in a Data Strip view, Analog Meter view or Graphic Trend view directly on the Process Page.
THE PRODUCT INFO PAGE
The Product Info page is used to enter qualitative information about your test run. This information is stored with your data files for later recall.
Remote Access Capability
All System 2 systems ship with a remote control access package which can be used for a variety of functions. These include remote service support, data file transfer, easy upgrades, and remote viewing of your test runs.
DATA REVIEW
The Insight Review package allows you to recall data from previous test runs and generate reports along with graphic data plots.
THE REALTIME DATA PAGE
The Realtime Data page provides a digital snapshot of the current run data along with Hi-Lo settings for all process variables. This snapshot can be sent to the printer at any time during a run.
THE REALTIME TRENDS PAGE
The Realtime Trends page provides a graphic display of up to 4 process variables at one time. These plots can also be expanded to a full screen overlay view. The System 5 quick-zoom feature allows you to zoom and expand critical run time data plots.
THE ALARM & EVENTS PAGES
The Alarm and Events pages ensure that a complete history of the test run is logged for future review. The Alarm page automatically logs any process variable which enters either a Hi or Lo alarm condition. This information is logged along with the time, operator, and alarm value.
The Events page allows the operator to log comments and events during the test run.