PortaRay는 다양한 UV/Visible 광경화 어플리케이션에 적용되는 포터블의 다용도 광경화 시스템입니다. 최대 5 "x 5"의 효과적인 경화 면적으로 소형 부품의 경화에 이상적입니다. 무게가 1.4 kg에 불과한이 시스템은 빈번한 이동이 필요한 어플리케이션에도 완벽하게 응용할 수 있습니다.
본 시스템에는 램프 헤드를 고정하고 유휴 기간 동안 차광 (light shielding)을 제공하기 위한 씰드된 헤드 레스트 (headrest)가 포함되어 있습니다. 헤드 레스트, UV 보호경, 전원 코드 및 접착제의 보관 및 운반을 위해 래치 형 하단 액세서리 박스를 옵션으로 제공하고 있습니다.
램프 헤드는 핸드 헬드 경화 작업에 사용하거나 스탠드, 컨베이어, 기계, 고정 장치 (fixture) 또는 로봇에 장착 할 수 있습니다. 단순하면서도 하이테크 디자인을 채택함으로써, PortaRay는 매우 사용자 친화적이고 신뢰할 수 있으며 가상의 learning curve나 setup time이 거의 필요하지 않습니다.
Excellent choice for users new to any aspect of light curing
Concentrated light output: 5" x 5" curing area @ 3"
Highest intensity in its class: up to 500 mW/cm2
Lightweight, durable, field proven reliability
Effective at curing large surfaces manually or through automation
Parabolic or Focused versions available - Includes lamp headrest
Product Summary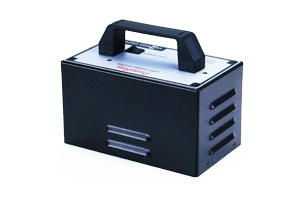 The PortaRay is a portable and versatile light curing system which can handle a variety of UV and visible light curing applications. With an effective curing area of up to 5" x 5", it is ideal for curing of small parts. Weighing-in at a mere 3 pounds, the system is also perfect for applications where frequent transportation is involved.
Included with the system is an enclosed headrest for holding the lamp head and providing light shielding during idle periods. An optional latched bottom accessories box is also available for storage and transportation of the headrest, UV glasses, power cord and adhesives. The lamp head can be used for handheld curing operations, or it can be mounted to a stand, conveyor, machine, fixture or robot. Due to its simple yet high-tech design, the PortaRay is extremely user-friendly and reliable, requiring virtually no learning curve or setup time.
Fully Integrated Lamp Head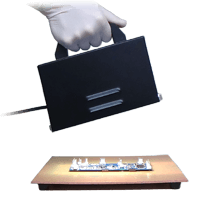 The hand-held 3 pound lamp head is fully self-contained. It contains an extra long life 400 or 600 Watt arc lamp, which emits evenly distributed UVA, UVB or visible light. The unit's arc lamp is powered by the state of the art UV Power-Plus Lamp Driver. Typical lamp life is 2000 hours. The lamp reflector is available as a parabolic 5" x 5" type for uniform, larger area curing, or optionally as a focused (circular) 5" x 3" type for higher intensity curing of smaller areas.
Lamp Power Regulation
The system's switch mode power supply maintains constant lamp power regardless of variations in AC line input or lamp voltages. This regulation provides for repeatable curing times and longer lamp life.
Standby Mode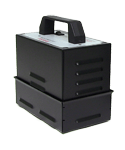 The unit features a standby mode rocker switch, which reduces lamp power by one half. This mode can be used to reduce heat and stray UV light output while the system is not in use.
Two AC Line Input Versions
The system is available in 90-132VAC, and 180-265VAC input voltage ranges that make it compatible for use worldwide.
Forced air cooling
An integrated cooling fan in the lamp head ensures cool operation and high system reliability.
Optional Lamp Spectrums
The PortaRay is available with UVA, UVB & visible spectrum lamps for the 400W & 600W systems, ensuring compatibility with adhesives and coatings from all manufacturers.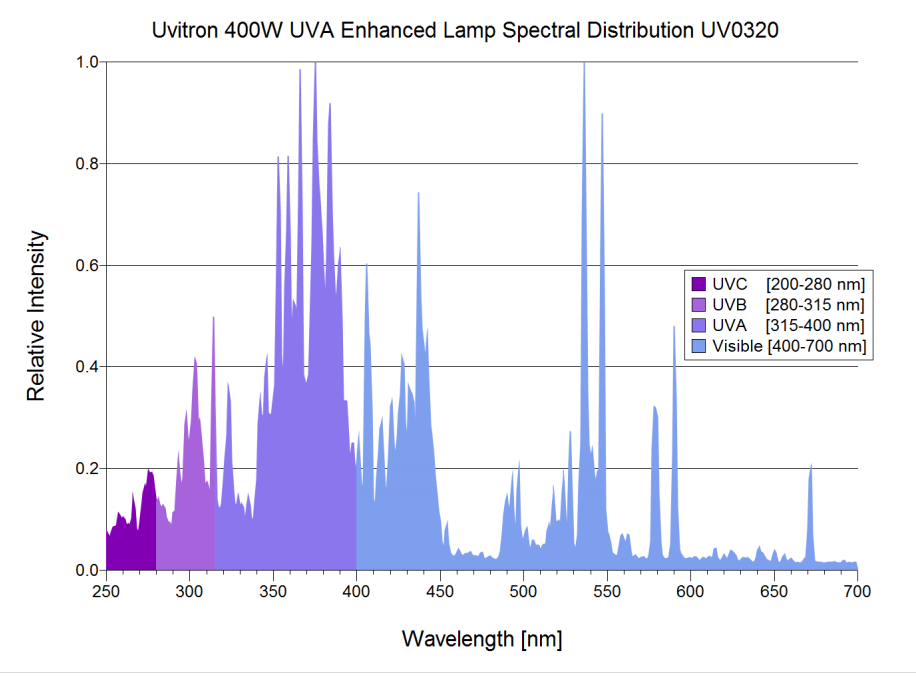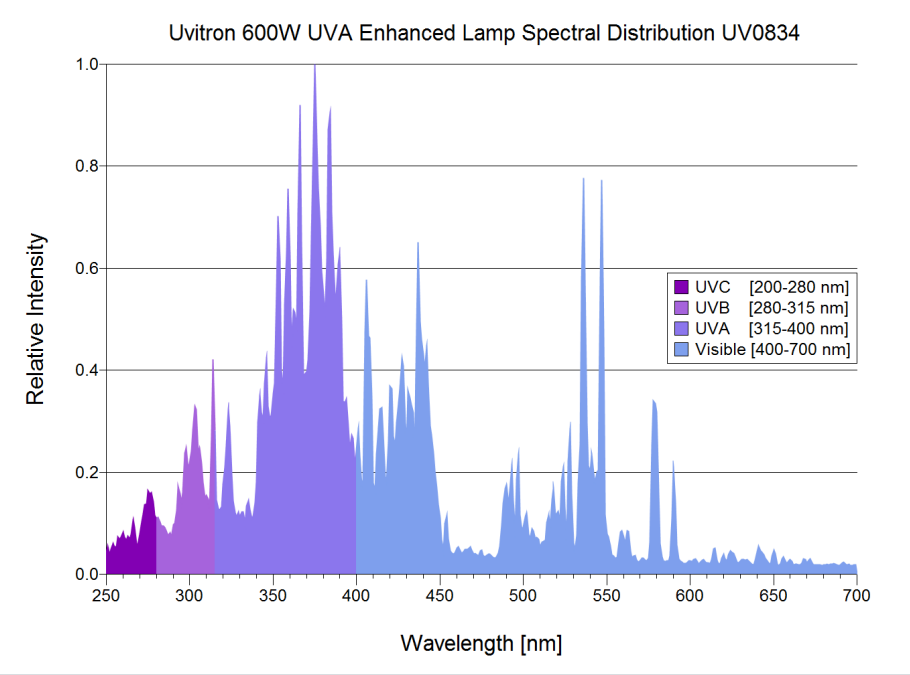 Versatile Configuation Options
The versatility of the PortaRay extends beyond the lamp head itself. We offer a variety of specialty configurations and upgrades to the system to support specific applications.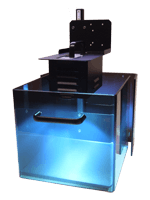 Benchtop Mounting & Shielding Station
본 시스템은 벤치 탑 플러드 스탠드 및 쉴드 (Benchtop Flood Stand & Shield)의 특별 구성으로 다양한 높이에 장착될 수 있습니다. 오른쪽에 보여지는 바와 같이 전면 랩 어라운드 UV 쉴드 및 후면 UV 쉴드 (front wrap-around UV shield & rear UV shield) 옵션이 있는 스탠드 장착형 PortaRay가 있습니다.
Latching Accessories Box Configuration
The optional accessories storage compartment available with the PortaRay can be latched to the bottom of the lamp housing. This storage box can be used to house curing system accessories such as headrest, power cord, UV glasses, adhesive, etc.
| | | |
| --- | --- | --- |
| | | |
| Lamp head attaches to accessories box | Easy transport | Top-down view of accessories box |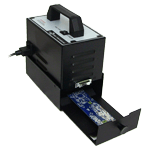 Headrest with Drawer
The latched accessory box version of the PortaRay comes with a headrest that includes a drawer. This allows the headrest to function as a mini curing chamber for small parts, in addition to providing light shielding during idle periods.
System Configurations
#
Part #
Input [VAC]
Lamp Power [Watts]
Reflector Type/Area
UVA Intensity [mW/cm2 @ 3"]
Optional Acc. Box & Drawer Headrest
Ordering
1
UV2270*
120
400
Parabolic (5x5")
200
Head Only,
Closed Rest
UV2267*
240
2
UV2272*
120
400
Focused (5x3")
240
Head Only,
Closed Rest
UV2269*
240
3
UV2274*
120
400
Parabolic (5x5")
200
w/ Accessory Box, Drawer Rest
UV2273*
240
4
UV1197*
120
400
Focused (5x3")
240
w/ Accessory Box, Drawer Rest
UV1198*
240
5
UV2265*
120
600
Parabolic (5x5")
270
Head Only,
Closed Rest
UV2258*
240
6
UV2266*
120
600
Focused (5x3")
310
Head Only,
Closed Rest
UV2264*
240
* Stocked configurations - all others are special order.
Note: All systems include UVA lamp, UV protective glasses & gloves, power cord and manual.
Accessories Part Numbers
Part No.
Item
Details
UV3103
PortaRay Stand & Shield Assembly
Mounting & shielding Station for PortaRay. Includes stand (UV0454), front shield (UV0455), rear shield (UV1094) & PortaRay mounting bracket (UV1729)
UV1729
PortaRay Mounting Bracket Kit
Mounting bracket, flood bracket, knob, measurement tape & hardware (used to attach PortaRay to flood stand )
UV0454
Adjustable Height Flood Stand
Used with PortaRay & PortaRay mounting bracket (UV1729) for bench top curing
UV0455
Wrap-around UV Shield
Provides basic UV shielding (used with UV0454)
UV1094
Rear UV Shield
Supplemental rear protection for blocking low level backside UV light for applications where complete shielding is desirable (used with UV0454 & UV0455)
(Multiple)
Power cords
Multiple types available
UV4270
PortaRay Carrying Case
24" x 17" x 10"
UV1450
Uvicure Plus II Integrating Radiometer
UVA, UVB or Visible ranges, 10-10,000mW/cm2
UV1422
UV Protective Gloves
Cotton Knit Work Gloves for UV light shielding
UV0496
UV/IR Protective Safety Glasses
OTG (fit over prescription eyewear), 5.0 shade
UV02232
UV/IR Protective Safety Glasses
Sport contour, 5.0 shade
UV01890
UV Protective Face Shield
Lift-up face shield ideal for maximum UV/Visible light protection, w/ darker 6.0 shade
Replacement Lamps:
UV0320
UVA Metal Halide Lamp
400W medium pressure
UV0544
UVB Enhanced Lamp
400W medium pressure
UV0489
Visible Metal Halide Lamp
400W medium pressure, 420nm
UV0545
Visible Metal Halide Lamp
400W medium pressure, 460nm
UV0834
UVA Metal Halide Lamp
600W medium pressure
UV1884
UVB Enhanced Lamp
600W medium pressure
UV1074
Visible Metal Halide Lamp
600W medium pressure, 420nm