Liquid Analysis Systems' L360 series chemical analyzers perform online sampling and analysis. The L360 is optimized for ease of use, low maintenance, and minimum operating cost.
Features
Auto sample preparation
Auto sample dilution for wide ranges
Auto drift correction
Result consistency check
Auto check of reagents and sample
Alarm outputs
SD card data storage
Options
Multi-stream analysis
Overflow sampler with back-flushed inlet strainer
Grab sample or standards ports
Modbus communications
Replenishment and dosing controls
Windows™ PC software for process supervision
L360 Acid Analyzer
The online L360 Acid analyzer titrates acidity in process streams emulating a benchtop colorimetric titration. All aspects are automated, including sampling, reagent addition, titration and cleanup. With every new sample the optical path is wiped clean prevent drift. For dependable process control, each result is checked for consistency and range prior to posting, alarming, or actuating controls. Detection and alarming of maintenance items, sample flow, and reagent supply are included. Reagent consumption is minimized with microliter fluid delivery. Grab sample and auto standard validation are available as an option. Output options include Modbus, current loop, and relay.
L360H has configuration of Base model with single stream inlet, precision burette for sample and reagents, process alarm relay.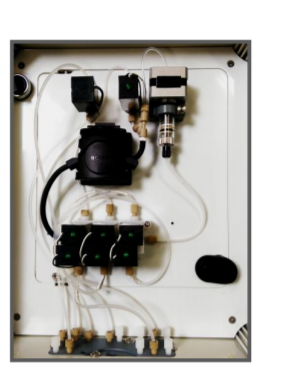 Options
AV Auto validation on bottled standard with reporting and alarming
CL Current loop output, 4-20 mA
DI Digital input for remote control of analyses
ER Extended analysis range. For analyses beyond standard ranges.
GS Grab sample or standard inlet
MB Modbus RTU output for results, history, and alarms
PCS Windows™ process overview and analysis configuration software
RO Relay output, form C, for process alarm, with configurable setpoint
SAn Multi-stream sampling, n = number of streams.
SB Sample strainer with auto backflush.
SK Spares kit (basic and extended versions available)
SP Sample pumping. For non-flowing samples.
Specifications
| | |
| --- | --- |
| Method | Titration with hydroxide to colorimetric pH endpoint. |
| Ranges | Configurable over 1:50 range, e.g., 0.020 to 1.000 N |
| Repeatability | 1% of range (1) |
| Cycle time | ~9 minutes per replicate per stream(1) |
| Equipment stability | ≤ 2% / yr |
| Reagents | A – Hydroxide titrant. B – Indicator. |
| Power required | 100 to 240 VAC, 1A |
| Sample streams | Standard: 1 Optional: 2. |
| Sample conditions(2) | More than 10 °C, flow more than 50 cc/min |
| Drain | Vented/non-pressurized, |
| Water | Pressure ≥ 1 bar, purity ≤ 10 µS |
| Enclosure | 14 x 12 x 10 inch, wall mount, NEMA 4X/IP65 |
| Interface | 10 cm color touchscreen. Option: backlit for outdoor |
| Output options | Modbus, 4-20 mA, process control relays |
Specifications subject to change.
(1) Dependent upon range, speed, and replicate settings.
(2) Consult LAS for conditions outside these limits.