The Grace Instrument M9200 HPHT Foam Rheometer is designed to simulate foam fracturing and acidizing processes under
down hole conditions of temperature and pressure, while providing comprehensive data collection, including power law n' and k' values for future modeling. The M9200 computer-controlled automation package allows precise monitoring and variable flow-rate control.

M9200 Features:

Single or dual gas (CO

2

and/or N

2

) foam testing capability.
Constant circulation of the foam, which ensures uniform foam properties.
HPHT viewing cell allows testing of acid samples and ensures safe operation.
Visual determination of foam half life and digital measurement of bubble size and distribution.
Integrated heating trace ensures that all lines are subjected to a uniform temperature.
Accumulator for testing high viscosity and/or corrosive samples.
Viewing cell images can be digitized and processed digitally.
Designed to handle fluids and gases at temperatures up to 350 °F, under a working pressure up to 5,000 psi.
M9200 PC Software: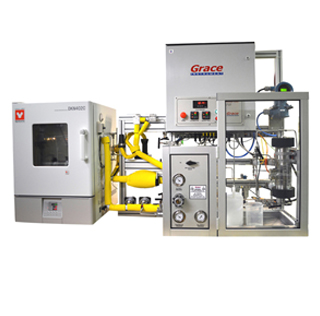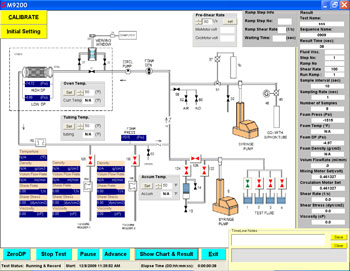 test sequence setup
real-time charting
historic data review
automatic temperature controls of oven and heat tracing
shear rate (circulation flow rate) control
M9200 PC enables you to create and manage test steps, manage a database powered by MS Access?, and allow the resulting data to be saved, viewed, printed, plotted, and analyzed. Test data may be exported in MS Excel?-compatible spreadsheet format for state equation calculation.
M9200 can also be built to custom specifications.
M9200 Specifications
---
Dimensions: 26" x 28" x 70"
---
Weight: 250 lbs
---
Operating Temperature: Ambient to 350 °F
---
Working Pressure: Atm to 5,000 psi
---
Shear Rate: 0 to 1,500 S
-1
---
Sample Volume: 115 mL
---
Accumulator: 500 mL capacity, 6,000 psi
---
Viewing Cell: Stereo microscope ? Sapphire window
---
Dual Gas: CO
2
or N
2
gas injection for foam creation
---
PC (included): Pentium-grade PC with MS Win7, 10, dual monitors, color printer