---
Width: Customizable.
Depth: Customizable
Weight: Customizable.
Core Dimensions: 1" to 1.5" diam by 6" to 24" length
The 9000 series products are all customizable.
Height: Customizable
---
The Grace Instrument M9100 Automatic Core Flow Tester is designed to accurately measure permeability changes to a formation core sample in a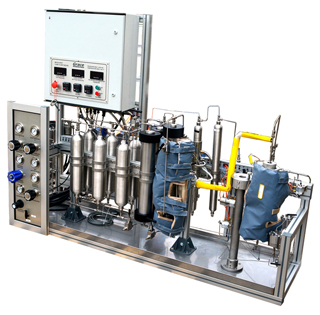 high temperature and high pressure environment, while exposing it to a variety of test fluids. A core that is collected from a formation is inserted into a core holder. A computer with Grace Instrument M9100 Core Flow™ software controls the environment within the core holder and the injection rate and/or pressure of fluid into the core.
Streamlined workflow allows for multiple test operations without draining confining fluid between tests
Designed to maximize efficiency, the M9100 hardware design allows for multiple test operations without draining confining fluid, enabling the researcher to conduct multiple tests without multiple set-up and clean-up times.

Complete automatic valve and fluid control
The M9100 software is customized to your specifications to allow for maximum automation of the test process, including digital control of valves, fluid injection, and many other test operations and parameters.

Features
Optional automatic gas porosity and permeability measurement
Optional automatic core loading
Optional heating band or convection oven temperature control
Optional fluid pre-heating prior to contact with the core sample
Optional slim tube system
Optional resistivity & ultrasonic measurement
Includes pressure relief devices such as rupture discs and pressure relief valves
PC software prevents user from setting temperature above 410°F
Oven itself has heater cut off safety
The M9100 is easy to operate:
| | |
| --- | --- |
| Step 1: | Set up test parameters using the M9100 Core Flow™ software |
| Step 2: | Insert a core into the core holder |
| Step 3: | Load test fluid into the accumulator |
| Step 4: | Click Start in M9100 Core Flow™ on the PC |
---
M9100 Core Flow™ software: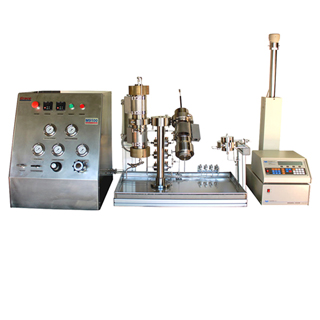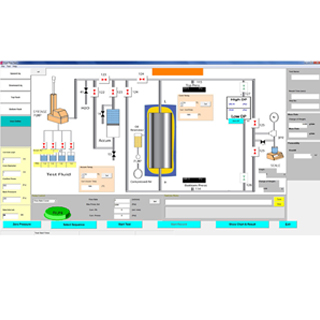 Standard core injection with optional cross-face
Tests controlled and data recorded by computer
Test data is exported as .csv files into any spreadsheet program
M9100 can also be built to custom specifications.
M9100 Specifications
---
Dimensions: 26" x 28" x 70"
---
Weight: 250 lbs
---
Operating Temperature: Ambient to 392 °F
---
Confining Pressure: Atm to 15,000 psi
---
Working Pressure: Atm to 10,000 psi
---
Back Pressure: Atm to 10,000 psi
---
Accumulator: 1L sample capacity
---
Fluid Injection Rate: 0 to 80 mL/min (depending on pump type)
---
Core Dimensions: 1 or 1.5 inch x 6 to 24 inch
---
Voltage: 220 VAC ± 10% or three-phase AC 380 VAC ± 10%, 50Hz