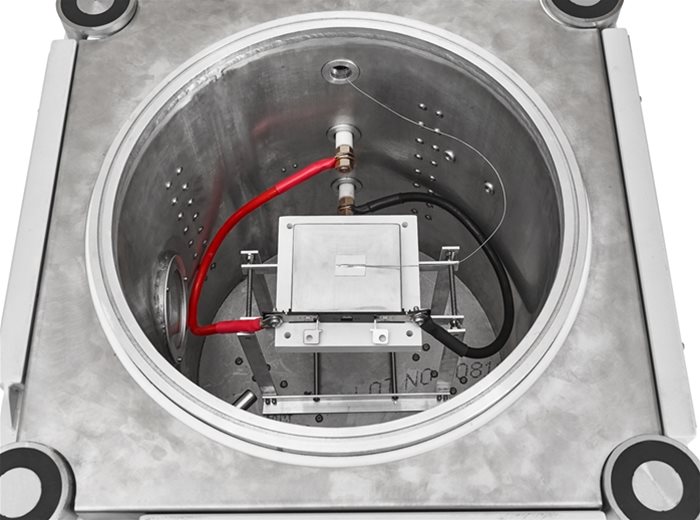 EV 셀 및 소형 모듈 용으로 설계되었으며, EV+ 가속속도열량계는 US ABC & Freedom Car, SAND-2005-3123, SAE J2464 및 기타 국내외 표준시험규정의 요구 사항을 충족합니다.
많은 'standard' 테스트는 열량 측정 뿐만 아니라 abuse test (예 : SAND, SAE)를 요구하고 있습니다.
본 규정은 제어 된 조건하에서 비디오 모니터링, 방출 가스 검출과 분석, 관통 시험을 하도록 제안하고 있습니다. THT의 EV + calorimeter는 이러한 많은 테스트를 수용하도록 설계되었으며, 리튬이온2차전지의 heat release에 대한 품질 정보를 제공해 줍니다.
The EV+ is an cylindrical calorimeter 40cm in diameter and 44cm depth. Unlike other THT adiabatic calorimeters the lid seals to the base unit. This seal is restricted to below 1 bar and is maintained by electromagnets. This allows for inertion of the environment and the ability to collect products of battery disintegration.
Standard Features of the
E

V+

Accelerating Rate Calorimeter: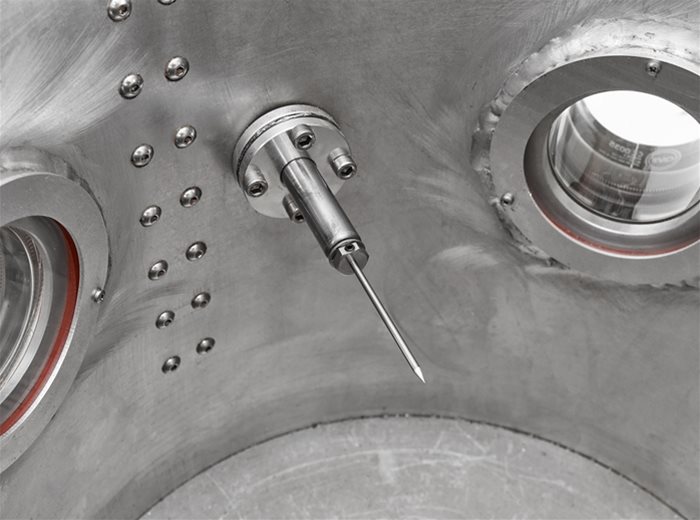 Integrated cables for current and voltage measurement
Video camera (with light)
Gas collection line (leading to gas collection bag)
Ability for battery pressure and temperature measurement
Ability for purging, evaluation, inerting
Hardware Features & Performance

Calorimeter Assembly

Circular, aluminium, 10mm wall thickness
40cm diameter
44cm deep
3 zones heating ARC™ design principle and operation. Calorimeter lid port seals to base port giving a pressure tight seal at this point.
Pressure integrity of calorimeter assembly: Release pressure 20 psi/1.5 bar absolute
0.5 bar overpressure, sealed for gas collection and safety purposes.

Temperature range -50°C (with CryoCool) to +300°C

Temperature measurement Type N thermocouple

Temperature sensitivity 0.01°C

Temperature accuracy 0.02­°C

Exotherm detection sensitivity 0.02°C/min

Exotherm tracking rate to 20°C/min

Pressure measurement external (standard)' internal (optional)

Pressure range 0-50 bar

Pressure accuracy 0.5%

Standard Features

Inerting/Evacuation/Gas Purging (cooling)
- Ability to purge to work in inert gas or under vacuum and to add gas for cooling or gas transfer. Pressure tight ports

Battery Connector (Current and voltage)
- 100kW copper bar through calorimeter for current feeds. Insulated and thermally guarded (to minimise heat loss during operation). Pressure tight ports. Two pressure tight ports for VOLTAGE measurement (smaller insulated cables).

Gas Collection Port
- One 50mm pressure sealed port. Outlet for FEP gas collection bag or with customer modification for either single shot gas collection or continuous flow analysis.
Provided as standard for basic system with 50 litre FEP bag.

Video Monitoring
- Pressure tight glass window in calorimeter. Includes video camera and data link to PC for data collection.

Electro-magnetic Sealed Lid
- Pressure tight to allow seal with safe pressure release.

Automated Electronic Cut Out
- In addition to Software & Hardware. Safety features an electronic switch off feature gives additional safe in use operation.

FULL RANGE OF OPTIONS AVAILABLE
specification above subject to change
Customer Support
Installation & training 1 week, acceptance test
Support Guarantee 1 year, phone and email support over lifetime of instrument without charge
Part Supply 10 years guaranteed
Manuals Full operations and data analysis, manuals with tutorials
Options

Sub Ambient Operation, Cryogenic Option
Pressure tight ports provided in calorimeter that can be blanked off or used for cryogenic cooling to -50°C using liquid nitrogen flow option (LNFO).

Heat Capacity Measurement Cp
Pressure tight ports provided in calorimeter that can be blanked off or used with Heat Capacity Option (CPO).

Surface Temperature Distribution (Multipoint Option)
Pressure tight ports provided in calorimeter which can be blanked off or used with either the 8 thermocouple, 16 thermocouple or 24 thermocouple Multipoint Option (MPO).

Controlled Speed Nail Penetration & Crush Option

Pressure tight ports provided in calorimeter which can be blanked off or used with the NP option. The latest THT Nail Penetration option allows functionality to SAND 2005-3123 & SAE J2464 specification. (EC-CS-NPCO). The NP option is pressure tight to the calorimeter (it allows in operation in-situ gas collection and video monitoring). The NP option allows for nail penetration at controlled speed up to 20cm/sec and crush.

Gas Analysis Options
THT can supply a range of collection vessels for gas analysis (GC or MS)