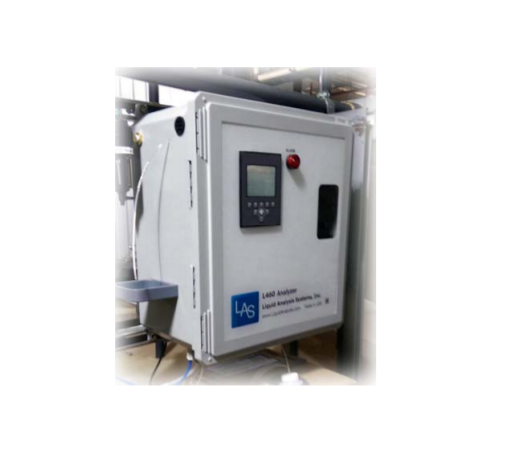 Liquid Analysis Systems사 L460 series 화학분석기는 신뢰할 수있는 온라인 비색 측정 (colorimetric measurement)를 수행합니다
L460은 최대의 신뢰성과 사용 편의성 및 최소 운영 비용으로 운영이 가능하도록 최적화 되어 있습니다.
L460 Sereis Features
• Auto sample retrieval and preparation
• Auto-check of titrant, sample, and sensors
• Result range and trend check
Through its display and keypad, users can view process status and history, and modify analysis intervals and other configuration parameters. This series offers a variety of hardware options for stream selection, sample preparation, and sample/reagent delivery.
Series Options
• Multi-stream analysis
• Grab sample port
• Auto sample filter back flush
• Sample diluter for extended range
• Replenishment and dosing systems
• RS 485/Ethernet networking/email messaging
L460 Hardness Analyzer
The atline L460 Hardness analyzer measures water hardness by means of the proven Calmagite colorimetric method. The analyzer can be configured to measure and report calcium, magnesium, or both. For dependable process control, each analysis can be automatically replicated and/or trend checked prior to posting, alarming, or replenishing. Sampling can be drawn from pressurized sample stream or pumped from overflow sampler. For sample with particulate, a sample strainer with automatic backflush is offered.
L460CaMg has configuration of Base model with standard precision (20 µl) titrant dose pumps, one sample/waste pump, single stream inlet, 4-20 mA output.
Options
DI Digital input for remote enable of analyses or dosing
DO Digital output relay with settable trip point or other control function
EB Ethernet server for remote monitoring via web browser
GS Auto grab sample with sipper tube inlet.
MS Multi-stream sampling
SD Sample diluter for extended analysis range
SB Sample inlet strainer with auto backflush.
Specifications
| | |
| --- | --- |
| Method | pH adjustment is followed by color development with Calmagite reagent. EDTA releases Ca from the color complex. EGTA releases both Ca and Mg. Intensity changes at 520 nm are used to determine concentrations. |
| Range | 0 to 4 ppm as CaCO3 |
| Repeatability | ≤1% of range |
| Cycle time | 3 to 7 minutes per stream, dependant upon sample conditioning and span and repeatability settings |
| Equipment drift | Less than 1% / year, typical |
| Reagent consumption | 200 µl/test |
| Power required | 100 to 240 VAC, 50/60 Hz |
| Sample streams | Standard: 1 Optional: up to 4 |
| Sample conditions | Standard: 5 to 20 psig, less than 50 µm particulate, 10 to 80 °C Other: consult factory |
| Sample connection | ¼" NPT |
| Air supply (for option SB) | Compressed, oil-free, ¼" tube or NPT-F connection |
| Waste | ¼" NPT. ½" tube adapter provided. |
| Leak | 3/8" tube connection |
| Enclosure | 22"Hx18"Wx10"D (55x46x26cm), wall mount, NEMA 4X/IP66 |
| Display | 3" x 2.2", LCD with backlight |
| Outputs | Standard: 4-20 mA process value(s), maintenance alarm relay. Optional: alarm relay with settable trip point, Ethernet, and/or serial network per user requirements. |
Specifications subject to change