Liquid Analysis Systems사의 L460 series 화학 분석기는 pH, ORP, ISE, 탁도계 및 다양한 센서를 사용하여 많은 수성 화학 종의 온라인 습식 화학 적정법에 따라 분석합니다. L460의 기능은 신뢰성 및 사용 편의성, 최소 운영 비용에 최적화되어 있습니다.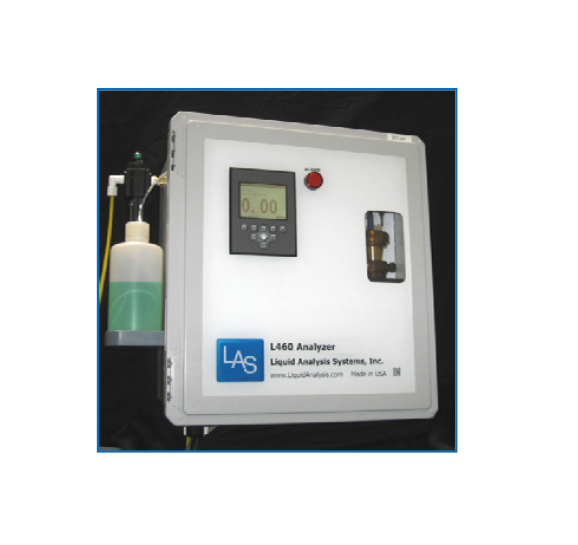 L460 Series Features
• Auto sample retrieval and preparation
• Result range alarms
• Auto check of titrant, sample, and electrodes
• Output options for recording, alarming, dosing, and/or replenishing
Through its display and keypad, users can view process status and history, and modify analysis intervals and other configuration parameters. This series offers a variety of hardware options for stream selection, sample preparation, and sample/reagent delivery.
Series Options
• Multi-stream and multi-parameter analysis
• GS Grab sample with sipper tube
• Replenishment and dosing systems
• Windows™ PC software for process supervision and analysis configuration
HA Rapid hypophosphite titration analysis
PL Process value current loop outputs
MSn Multi-tank sampling, n = number of tanks.
RPC Replenishment pump controls with rate limit, rate alarm and turnover record
RTn Remote temperature input for auto-idle
L460ENi Electroless Nickel Analyzer has configuration of Electroless nickel analyzer with auto-calibrated pH measurement, no-drift titrated nickel analysis, configurable process range alarms, analyzer maintenance alarm, and dual replenishment control outputs. Keypad and LCD display for process status, history, alarms, and configuration.
The L460ENi analyzer samples and measures pH, nickel, and optionally hypophosphite in electroless nickel plating baths. Features include:
• Auto-calibrated pH
• No-drift EDTA nickel titration
• Rapid 3-minute hypophosphite titration
• Replicated analyses to assure accuracy and repeatability
• Auto-monitoring of sample and reagent supply
• User-configurable process, replenishment and analysis settings
• Process ranges and replenishment rates alarmed upon excursion
• Sample drawn into the analyzer by internal pump and purged after every test prevents component plating
• Bath temperature input(s) allow auto analysis idle during bath cooling and tank passivation.
Specifications
Range
Ni: 0 to 10.0 ±0.1 g/l
pH: 3.00 to 8.00 ±0.01
Hypophosphite option: 5 to 50 ±0.1 g/l
Auto calibration
Ni: auto-zero and bath age compensation
pH: auto-calibration with two buffers
Average cycle time with replicates
Ni: 7 minutes. pH: 5 minutes. Hypo: 7 minutes.
Configuration parameters
Process setpoints, analysis interval, pH calibration interval, pump flow rates, process rate of change limits
Alarms
Process range exceeded, process change rate exceeded, no sample, no buffers
Tanks
Standard:1 Optional: up to 4
Power
100 to 240 VAC, 50/60 Hz
Drain
½" NPT(F)
Air, CDA
25~50 psi, ¼" NPT(F). For sample line evacuation.
Water, purified
25~50 psi, ¼" NPT(F). For rinsing.
Maintenance items
pH electrode replacement: 2 years
Reagents refill: ~2 months
Enclosure
20" H x 18" W x 10" D, wall mount, NEMA 4X/IP66
Display
3" x 2.2", LCD with backlight
Outputs
Relay, 4-20 mA, Ethernet, and/or serial per user requirement
Specifications subject to change