MS-MS의 장점을 가져와 complex matrix 내 유기 화합물 검출에 사용되는 신기술 - Multidimensional HPLC+GC-MS !
GIBNIK HPLC+GC COUPLING INTERFACE
본 시스템의 핵심은 특허받은 HPLC + GC 커플링 인터페이스입니다.
몇 가지 국제 특허를 가진 원천적인 기술의 인터페이스는 모든 종류의 크로마토그래피에서 사용되는 극성 또는 무극성의 HPLC solvent를 선택적으로 제거합니다. 특히 앞서 다른 HPLC+GC는 실패했던 reverse phase HPLC에서도 사용됩니다. 분석하고자 하는 물질은 전매 특허의 방식으로 처리된 TENAX ®와 같이 검증되고 신뢰할 수 있는 양적인 흡탈착 물질에 붙잡히게 됩니다. 이러한 trapping 과정이 진행되는 동안 HPLC solvent는 특허를 받은 interface의 fluid dynamics에 의해 선택적으로 제거됩니다.
SUMMARY OF FEATURES FOR KONIK MULTIDIMENSIONAL HPLC+GC-MS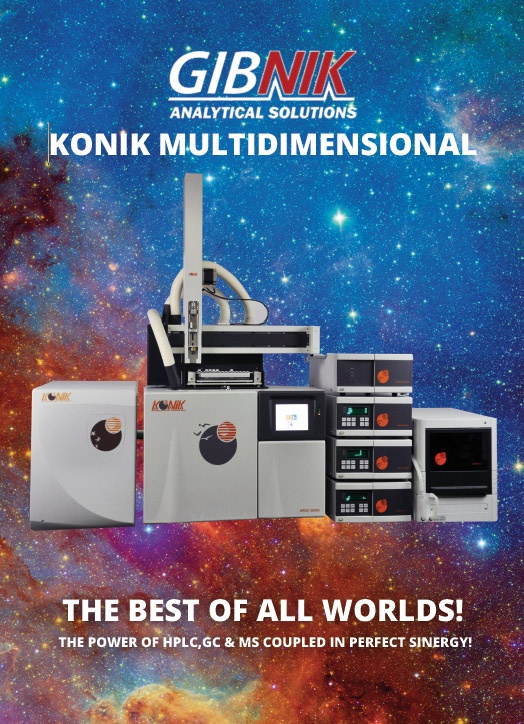 A WIDE RANGE OF PROVEN ADVANTAGES
Simplify and/or eliminate tedious sample preparation steps
Minimize use of solvents
Guarantee sample integrity
Shorten dramatically total analysis time
Reduce total cost per analysis
Lower detection limits
Determination of both target and unknowns by easy NIST search
Handle non-volatiles by the On-Line Derivatization option
Increase selectivity and lower detection limits by proper derivatization
On-line automatic fractionation/clean up of complex mixtures
Absolute quantitative analysis without reference standards
A WORLD OF PROVEN APPLICATIONS
Petroleum fingerprinting, fractions, chemicals and petrochemicals
Target and emerging environmental pollutants
Constituents of foods and beverages
Pharmaceuticals and bioactive substances
Life Sciences and clinical chemistry
Toxicology and forensics,…
R&D in all fields to determine at easy target as well as unknowns
KONIK MULTIDIMENSIONAL HPLC+GC-MS
TECHNICAL SPECIFICATIONS
DETECTOR OPTIONS
The system allows the use of any GC detectors as well as Mass Selective Detectors. In consequence GIBNIK offers two types of systems the GIBNIK HPLC+GC K2 with standard GC detectors (FID, ECD, FPD,…) and the GIBNIK HPLC+GC-MS K2Q2 coupled to the innovative KONIK GC-MS Q2 Mass Spectrometer
OTHER UNIQUE PATENTED OPTIONS
ON-LINE, SEQUENTIAL, HPLC MULTI-FRACTION ANALYZER
Designed to optimise HPLC separations by fractionation in accordance to the sample complexity. It allows analysing automatically each optimised fraction of interest in sequence
ON-LINE DERIVATION SYSTEM
This accessory allows using any reagent and solvent mix to obtain any desired on-line derivative of any compound or compound grouping. This facilitates increasing volatility of High MW substances not amenable to be analysed by GC, as well as to increase specifity and/or detection limits by the use of a wide range of special reagents capable of tagging molecules for their specific and unequivocal analysis
ABSOLUT AND UNIVERSAL QUANTITATION
Eliminates the use of reference standards
GYBNIK policy is to deliver all these Multidimensional Systems only as "Turn-Key-Purposely Engineered-Customized-Tailor Made Analysers".
Occasionally a prior feasibility study is required. Please contact us so we can discuss in depth your problem(s)(need(s) and provide you an specific proposal and quotation.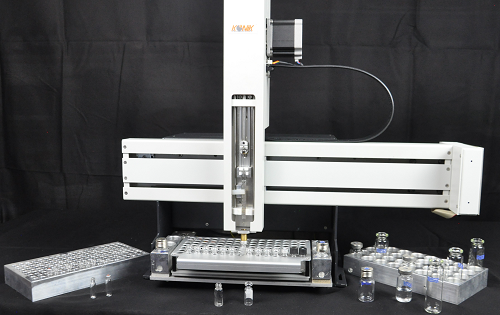 For more information please request latest catalogue and/or application notes to info@yeonjin.com