ARC는 단열환경(Adiabatic condition)에서 대소형 배터리의 열안정성을 측정하기 위해 고안된 ARC로써 자동화된 Heat-Wait-Seek 작동 원리로 exothermic onset을 정확하게 측정하는 가속속도열량계 입니다.
0.005 °C의 감도로 압력변화 및 전압, 전류변화를 동시에 측정하는 전세계 유일의 ARC입니다.
Extended volume calorimeter
Designed for testing larger batteries (e.g. Automobile batteries) and various battery types
0.001°C 까지 온도조절이 간단한 탁월한 단열능력 (Unparelled Adiabaticity)
Shorting, overcharging, discharging 가능
측정조건 설정이 간단하며 setup 시간이 짧다
PC Based processor를 장착하고 있어 data 기록 및 저장 속도가 빠르다.
3단계의 안전장치로 안전한 실험 제공
실험 종료 후 fume extraction 자동 실행
Low Phi, vent sizing, stirring, dosing, gas collection, cryogenic operation 등의 옵션 제공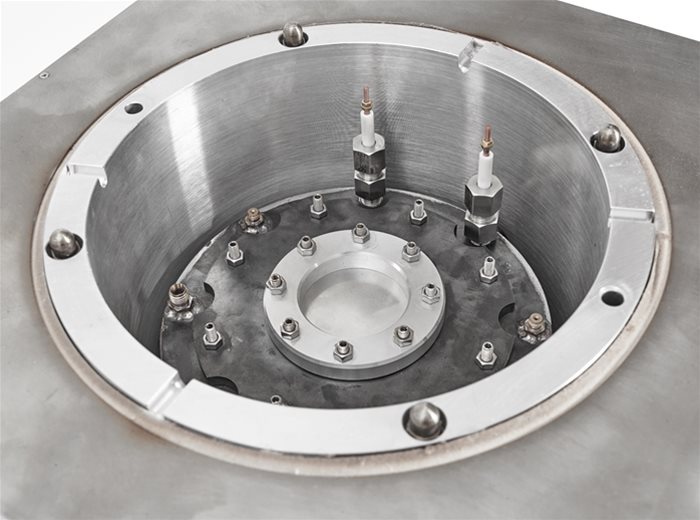 Features
The EV calorimeter is necessary for larger batteries, modules and small packs, power tools, satellite, military and associated applications. The EV calorimeter is used when variation of heat release over surface area (MultiPoint measurement) is to measured and associated thermal management applications. The EV calorimeter is rugged and is sited in a secure Containment Vessel.
Within the containment vessel the standard ARC calorimeter (as in ES-ARC) can be used and this is regularly supplied for "Double Systems". Such a system gives versatility capable of measuring:- small prismatic, coin cell, 18650 and other larger batteries used in power applications.
With the EV system all safety tests can be carried out as well as Battery Performance studies.
The BPC Battery Performance Calorimeter is an even larger calorimeter where thermal management is to be studied - it is not suitable for safety tests, but is used for multipoint and power discharge application and experimentation over environmental temperatures. It is restricted to 200°C.
Over-voltage test from ambient temperature
Specification
Hardware Features & Performance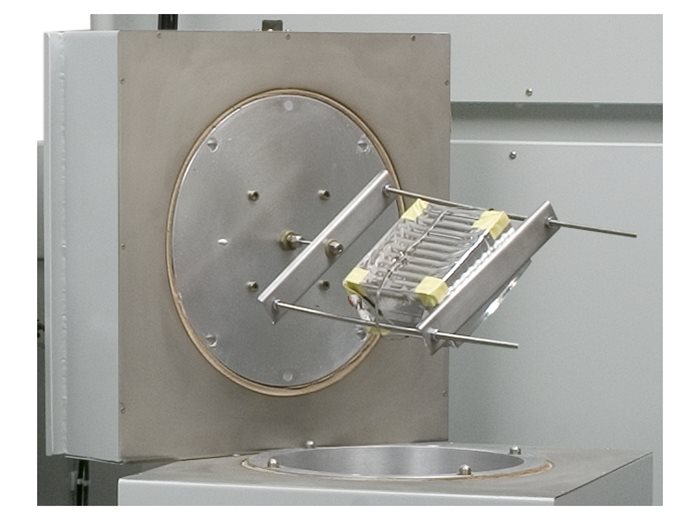 Design
EV STANDARD CALORIMETER; 25cm diameter; 50cm depth; 8 Heaters, 6 thermocouples (Three Zones, Bomb, Safety and Auxiliary)
BPC BATTERY PERFORMANCE CALORIMETER; 60cm, 50cm depth
Temperature
-50°C - 450°C EV temperature range
-40°C - 200°C BPC temperature range
Sensitivity
0.02°C/min detection
Temperature resolution 0.001°C,
Precision : Better than 0.2%, Accuracy 0.7%
Pressure
Pressure range 0-200 bar (or specify range to 1000 bar with alternative transducers), resolution 0.005bar, precision 0.02%, accuracy 0.05%

Customer Support
Installation & training - 1 week, acceptance test
Support Guarantee 1 year, phone and email support over lifetime of instrument without charge
Part Supply 10 years guaranteed
Manuals Full operations and data analysis manuals with tutorials
Software & Computing Power
Controller Workstation; flat screen monitor, keyboard and mouse
Software Microsoft Windows, National Instruments
Labview control software ES-ARC
Labview; ARCes
Full on-the fly operation
Remote User facilities Worldwide remote command & operation of ARC using Terminal Services worldwide broadcast of data and status with WebBrowser software
Virtual Technician facility Set up unlimited runs and delay, sequence, perform all in one program
Data Analysis ARCCAL+
Allowing: raw data graphs, time to maximum rate, thermokinetic modelling, time to explosion; data conversion to units of enthalpy, power, gas generation
Multiple dataset analysis; 9 datasets in 1 project; 3 analyses, multiple merge graphs report generation in Microsoft Word, or Microsoft Excel or html
Tutorial for instruction of analysis

Options
KSU Option To accomplished classic cycling tests for use, simulation and life cycle and efficiency and battery efficiency determination.
BSU Option Abuse testing option (shorting, over voltage charging discharging application)
NPCO Option Automated mechanical abuse testing (nail penetration, crush)
MP Option Options allowing up to 24 thermocouples positioned on battery for variation over battery surface.
CPU Option Specific heat capacity measurement
SSS Option Gas collection during or after test into 50cm3 collection vessel
Kits...
low cost add-ons designed to
facilitate testing in specific areas
Clamp & Collar Kit allowing appropriate connection to large batteries to be subjected to high power discharge and charge
Battery Safety Kit for those working with own cycler and abuse tester
Battery Pressure Kit allowing internal and external pressure measurement. Includes canisters for gas tight containment allowing pressure measurement and gas collection
Spares
A full range of spares and consumables are available. Any user requiring more information please complete the request form.
Low containers Designed by THT these low containers are designed to enable accelerating rate calorimeter users to bridge the gap into the world of low-phi testing. These cells are available with several different fittings and can also be fitted with magnetic stir bars. Currently these containers are offered in stainless steel although other materials can be produced. Contact us for further details.
Burst Disk Unit THT has designed this burst disk assembly, which is suitable for any
accelerating rate calorimeter. Designed to sit above the calorimeter, this device enables the user to protect the system from cell ruptures. The user can fit a number of special burst disks which are designed to rupture at specific pressures and will cause the cell to rapidly discharge. Any liquid vented will be contained within the catch pot. This system is ideally used alongside low-phi containers and glass bombs
Battery sample holders THT manufactures holders for specific batteries to enable testing in both open and closed (with pressure connections) modes. THT are able to manufacture special holders for any battery dependent on a specified minimum order. Please contact us with your specific requirements.
Sample Holders Specific holders for all battery types.
Safety 2 cubic meter containment vessel (Blast Box) to allow working space; 3mm reinforced Steel, Proximity Switch, Door bolt; Burst Disk Assembly. Automated Fume Extraction facility
Control Modes Adiabatic; Quasi-Isothermal, True Isothermal, Isoperibolic, RampDetection of Endotherms and Tracking of Exotherms
Sample Testing Service For larger battery cells the EV-ARC can be used. A testing service including abuse and electro-thermal dynamics is available.
Abuse type testing will determine heat output when battery is shorted, overcharged or over-discharged. Such tests are routinely carried out in the THT ARC using the BSU option.
Testing can also be carried out to determine Cp variation of heat release over surface area (multi-point) and aspects of thermal management.
The full range of tests that can be carried out with the EV-ARC plus battery test options allows all information on the safety, efficiency, lifetime of batteries and thermal consequences of their performance to be determined.