Uvitron spot system은 작은 면적의 고강도 UV 광경화에 최적화되었습니다.
3 mm ~ 15 mm의 UV광경화면적
Intensity: 1,000 ~ 13,000 mW/cm2
수명이 긴 4 파장의 Flexible Light Guide 사용
네 개의 독립적 Irradiation Channel
Cool Operation, Built-In Power Supply, Security Key Switch
Product Summary
SkyBeam은 벤치 탑 및 자동화된 생산 라인에서 널리 사용되는 고강도 냉각-구동 LED 스폿 라이트 경화 시스템입니다. 본 시스템에는 수명이 긴 라이트 가이드가 포함되어 있으며 다양한 렌즈 타입으로 최대 4 개의 독립적 라이트 가이드를 지원하며, 노출 시간 조절과 foot pedal 활용이 용이합니다. 본 모델은 전원 공급 장치가 내장되어 있으며, 무게 1.5kg, 크기 140mm x 92mm x 160mm의 소형 휴대용입니다.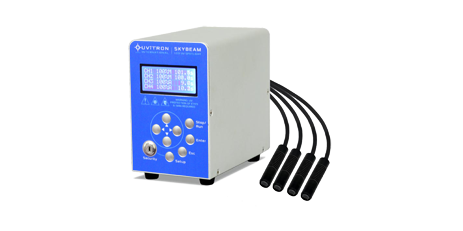 4 Irradiation Channels
The system features 4 independent irradiation channels, each with 0-999.9 second exposure timer and 10 to 100% power adjustment range. Each channel's UV light spot size can be adjusted by replacing the optical lens at the end of its light guide, with the service life of each irradiation channel independently recorded.
Built-in Power Supply
The built-in power supply and compact design ensures the unit occupies minimal space, and eliminates the need to manage an external power adapter.
External Control Interface
The system can be remotely monitored and controlled using isolated logic signals available at the rear panel terminals. The digital logic functions allow high-speed control of the SkyBeam for applications requiring a direct interface with machine controllers or PLCs. Control signals include LEDs on/off and a safety interlock that disables LEDs for operator protection. Monitoring signals include system ready, LEDs on and system alarm. An RS232 port is also provided for serial communication with PCs and PLCs.
Long-Life Flexible Light Guides
The cable of the UV LED light guides is a 2 meter flexible robot cable, tested to over 10 million bending cycles. 4 wavelengths are available, including 365, 385, 395 and 405 nm.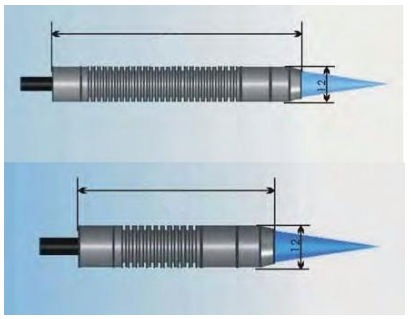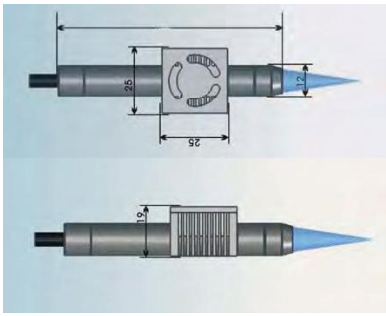 Cool Operation
Both convection cooling and fan cooling UV LED light guides are offered. The fan cooling type has better heat dissipation and is suggested for continuous operation. The UV LED light guide has a built-in temperature sensor that monitors the temperature and prevents the light guide from overheating. The aluminum controller housing is fully sealed to prevent contamination and ensure long system life.
Security Key Switch
The system comes with a security key switch that prevents operators from making unauthorized changes to the approved running parameters.
Specifications

System Type
LED Spot
Part #
UV3979
Input Voltage
100-240VAC ±10%
Input Current (Max)
1.0 Amps @120V, 0.5 Amps @ 240V
Irradiance
From 1000 - 13,000 mW/cm2 UVA (lens dependent)
Curing Area
From 3 mm to 15mm spot size (lens dependent)
Size (H x W x D), Weight
140 mm x 92 mm x 160 mm, 1.5 kg
System Part Numbers
Part No.
Item
Details
Ordering
UV3979-365F
SkyBeam (365 nm), LED Spot Curing System (100-240VAC)
Comes with 1 365nm fan-type light guide (UV4053-365F) which includes 2 lenses (UV4030-12MM, UV4030-6MM). Includes UV/IR protective glasses, foot pedal, line cord, and manual
UV3979-385F
SkyBeam (385 nm), LED Spot Curing System (100-240VAC)
Comes with 1 385nm fan-type light guide (UV4053-385F) which includes 2 lenses (UV3982-12MM, UV3982-6MM). Includes UV/IR protective glasses, foot pedal, line cord, and manual
UV3979-395F
SkyBeam (395 nm), LED Spot Curing System (100-240VAC)
Comes with 1 395nm fan-type light guide (UV4053-395F) which includes 2 lenses (UV3982-12MM, UV3982-6MM). Includes UV/IR protective glasses, foot pedal, line cord, and manual
UV3979-405F
SkyBeam (405 nm), LED Spot Curing System (100-240VAC)
Comes with 1 405nm fan-type light guide (UV4053-405F) which includes 2 lenses (UV3982-12MM, UV3982-6MM). Includes UV/IR protective glasses, foot pedal, line cord, and manual
Light Guide and Lens Part Numbers
Part No.
Item
Details
UV4053-365F*
365nm LED Light Guide, Fan Cooled
Includes 6mm and 12mm lens, length=82mm
UV4053-385F
385nm LED Light Guide, Fan Cooled
Includes 6mm and 12mm lens, length=82mm
UV4053-395F
395nm LED Light Guide, Fan Cooled
Includes 6mm and 12mm lens, length=82mm
UV4053-405F
405nm LED Light Guide, Fan Cooled
Includes 6mm and 12mm lens, length=82mm
UV4054-365C
365nm LED Light Guide, Convection Cooled
Includes 6mm and 12mm lens, length=85mm
UV4054-385C
385nm LED Light Guide, Convection Cooled
Includes 6mm and 12mm lens, length=85mm
UV4054-395C
395nm LED Light Guide, Convection Cooled
Includes 6mm and 12mm lens, length=85mm
UV4054-405C
405nm LED Light Guide, Convection Cooled
Includes 6mm and 12mm lens, length=85mm
Lenses
UV4030-12MM*
Optical Lens 12mm, 365nm
1040 mW/cm2 @25mm, used with 365nm light guide
UV4030-6MM*
Optical Lens 6mm, 365nm
5980 mW/cm2 @17mm, used with 365nm light guide
UV4030-3MM†
Optical Lens 3mm, 365nm
13,000 mW/cm2 @10mm, used with 365nm light guide
UV3982-12MM
Optical Lens 12mm, 385nm / 395nm / 405nm
1040 mW/cm2 @25mm, used with 385nm / 395nm / 405nm light guide
UV3982-6MM
Optical Lens 6mm, 385nm / 395nm / 405nm
5980 mW/cm2 @17mm, used with 385nm / 395nm / 405nm light guide
UV3982-3MM†
Optical Lens 3mm, 385nm / 395nm / 405nm
13,000 mW/cm2 @10mm, used with 385nm / 395nm / 405nm light guide
* Standard items included with system (1 ea)
† Special order
Accessories Part Numbers
| Part No. | Item | Details |
| --- | --- | --- |
| UV4045 | Foot Switch, Exposure Control | With flying leads for attachment to controller terminal block |
| UV4046 | Security Switch Replacement Keys | Set of two |
| UV4047 | Power cord | AC Power Cord, 120V US Plug for SkyBeam |
| UV0496 | UV/IR Protective Safety Glasses | OTG (fit over prescription eyewear), 5.0 shade |
| UV2232 | UV/IR Protective Safety Glasses | Sport contour, 5.0 shade |
| UV1890 | UV Protective Face Shield | Lift-up face shield ideal for maximum UV/Visible light protection, w/ darker 6.0 shade |
| UV4011 | SkyBeam Instruction Manual | Usage and maintenance info for SkyBeam system |