SunRay는 컴팩트한 고출력 UV 플러드 경화 시스템입니다. 모든 시스템 구성 요소는 케이블 연결이나 원격 전원 박스가 거의 필요하지 않고 옵션인 Stand & Shield, 또는 공정 시설 어디에나 간단하게 장착할 수 있는 소형 램프 헤드에 연동됩니다.
헤드 장착, 전원 코드 연결, 경화 시작!
수명이 긴 400W 또는 600W arc lamp와 parabolic reflector는 균일하게 분포된 UV 로 8 "x 6" 경화 면적을 조사합니다. Arc lamp는 최신 기술의 UV Power-Plus 램프 드라이버로 구동됩니다. 본 시스템의 대형 버전은 SunRay Quad를 참고하세요. 헤드에는 편리한 운반 손잡이와 높이 조절 슬라이딩 브래킷이 있습니다.
175 mW/cm2 Intensity @ 3"
8" x 6" curing area
Solid-state / Constant Power
Compatible with UV Conveyor 40
Standby Power Switch
Optional UV Shield & Mounting Stand
Product Summary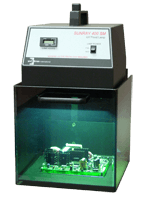 The SunRay is a compact, high-power UV flood curing system. All system components are integrated into a small lamp head which can be easily mounted on the optional Stand & Shield, or anywhere on a factory floor, with virtually no cabling or remote power boxes required. Just mount the head, connect the AC line cord, and start curing! The long life 400 or 600 watt arc lamp and parabolic reflector illuminate an 8" x 6" curing area with evenly distributed UV light. The arc lamp is powered by the state of the art UV Power-Plus Lamp Driver. For a larger version of this system, see the SunRay Quad. The head features a convenient carrying handle and sliding height adjustment bracket.
Auto-Range AC Line Input
The Auto-Ranging 90-132 / 180-265 VAC line input makes the SunRay easy to use in any country, with no wiring changes or voltage select switching required.
Lamp Power Regulation
The system's switch mode power supply maintains constant lamp power regardless of variations in AC line input or lamp voltages. This regulation provides for repeatable curing times and longer lamp life.
Standby Mode
The unit features a standby mode rocker switch, which reduces lamp power when the system is idling. This mode can be used to reduce heat and stray UV light output while the system is not in use.
Elapsed Hour-meter
A front panel hour meter tracks lamp age, allowing for consistent lamp replacement scheduling.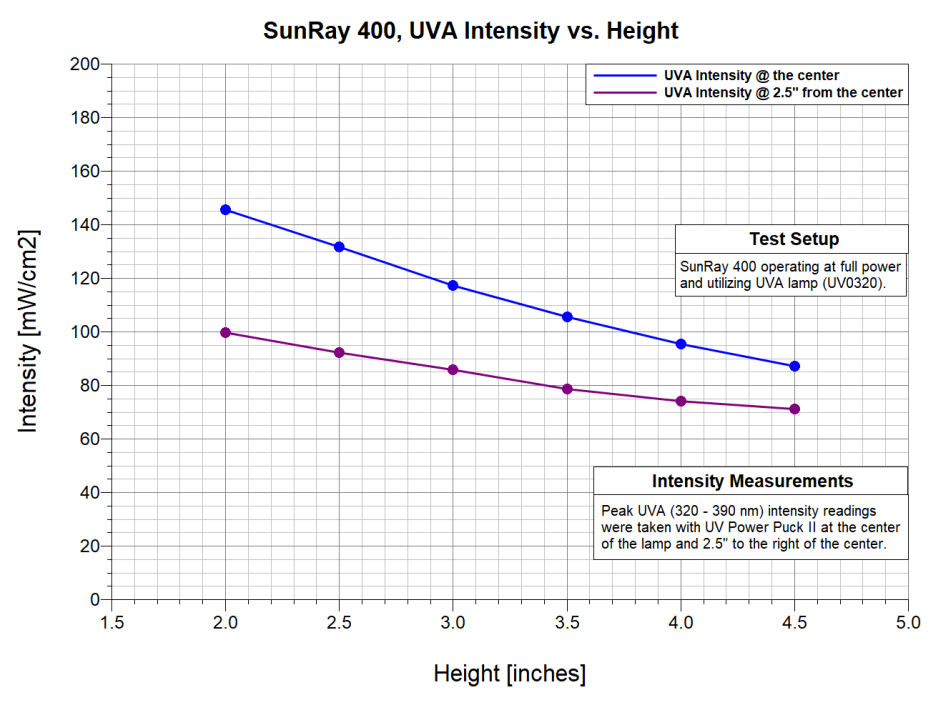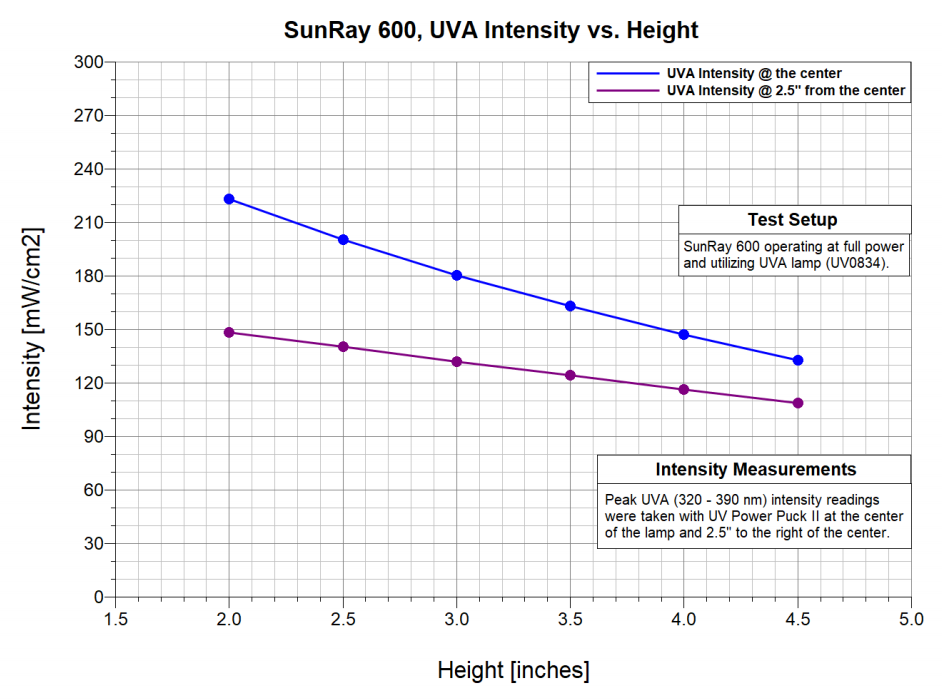 External Logic Signal Interface
The system can be remotely monitored and controlled using logic signals available at a 15 pin D-sub connector on the unit's rear panel. The following signal types are available:
Lamp standby control input for variable PWM control or for minimizing of lamp intensity during idle periods.
Hour meter reset input for zeroing hours after lamp replacement.
24VDC @ 1 Amp output for powering external fans, relays, solenoids or motors.
Lamp off command input and lamp ignited status output signals are available as special order.
Forced Air Cooling
Baffled fan cooling directs air to critical system components, ensuring cool operation and high system reliability.
Optional Lamp Spectrums
The SunRay is available with UVA, UVB & visible spectrum lamps for the 400W & 600W systems, ensuring compatibility with adhesives and coatings from all manufacturers.
Mounting Options
Mounting options include (1) the Stand & Shield, an economical adjustable-height mounting stand and wrap-around UV shield, (2) the Rayven, a fully enclosed curing chamber with door interlock and adjustable shelf, and (3) the UV Conveyor 40 for conveyor curing applications.
Specifications
System Type

Parabolic Flood Curing System

Part #

UV0446

UV0830

Lamp Power

400W

600W

Input Voltage

100-120 / 200-240 VAC ±10% (auto-ranging)

Input Current (Max)

7.0/3.5 Amps

10.0/5.0 Amps

Irradiance @ 3"

115 mW/cm2 UVA, typical

175 mW/cm2 UVA, typical

Curing Area

8" x 6"

Weight

11 lbs.

Size (L x W x H)

11" x 10" x 9"
System Part Numbers
Part No.
Item
Details
Ordering
UV0446
SunRay 400 Lamp Head, 120/240VAC, 50/60Hz
Includes 400W UVA enhanced arc lamp, UV/IR protective glasses, power cord and manual
UV0830
SunRay 600 Lamp Head, 120/240VAC, 50/60Hz
Includes 600W UVA enhanced arc lamp, UV/IR protective glasses, power cord and manual
Accessories Part Numbers
Replacement Lamp Part Numbers